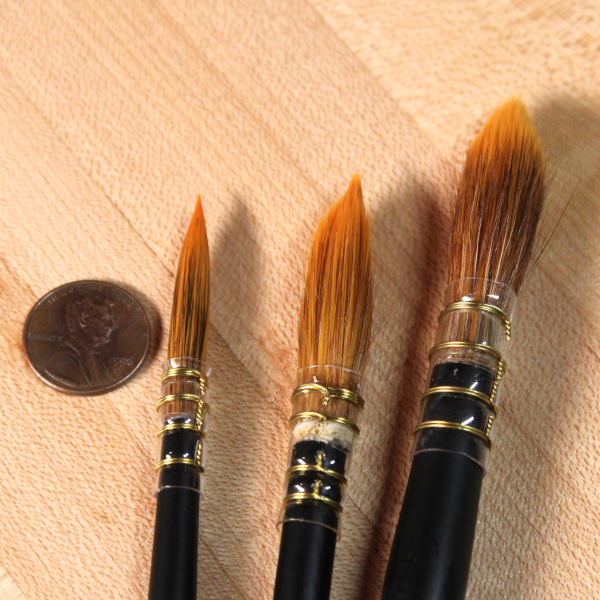 We are pleased to offer a bunch of new products in our online store, available today to coincide with the beginning of the Watercolor LIVE! conference. Ancient Earth Pigments is a sponsor of Watercolor LIVE! VIP attendees receive a gift bag of AEP products! Our new product offerings are coordinated with Linda's demonstration video, which will be shown Friday 1/29 around 8 PM, Pacific Time. Stay tuned to the blog for a link to see this video on YouTube.
New Pigments Available!
We have several new dry pigments on offer. First, Cote D'Azur Violet is back! This classic mineral earth pigment was part of the original product line of Ancient Earth Pigments, and has returned to our shelves . This subtle violet, made from a mixture ground slate stone from Switzerland, is great for florals, clouds, distant mountains.
Alizarin Crimson is now available. This synthetic organic pigment is the same alizarin chromophore that is found in madder lake pigments, synthesized in the lab for greater lightfastness and versatility.
Turquoise Light is a lovely greenish blue mineral pigment that is now back in stock. The color of our Turquoise Light is similar to the light greenish blue of the #8 Mine turquoise (Nevada).
We are very excited to be able to offer two fantastic historic pigments made from semiprecious lapis lazuli stone. Our Lapis Lazuli pigment is finely ground from South American lapis lazuli, and bears a close resemblance to the brilliant Afghan-lapis based ultramarine blue used by painters like Fra Angelico in the Middle Ages and early Renaissance. Ultramarine Ash (see upcoming video for a demonstration!) is a byproduct of the manufacture of blue pigments from lapis lazuli, but has a softer, blue-grey color that is very very hard to reproduce. Our Ultramarine Ash, when viewed in bright sunlight, exhibit slight golden sparkle from the pyrite inclusions in the native stone.
Brushes for Watercolor Painting
New this year to Ancient Earth Pigments are some special brushes Linda found for watercolor applications. We have some squirrel hair / synthetic brushes in sizes #6 and #8, with #10 coming soon – and a very special sheep hair Hake brush that is great for washes.
Paint Preparation and Storage Products

We're providing materials and tools for artists who wish to make their own paints. To this end we are introducing a range of tools and supplies for preparing and storing paints. First, we are offering two locally-sourced sanded glass grinding plates in annealed (10″x10″) and tempered (12″x16″) forms, for use with the new Italian #3 Palette Knife and our range of Italian glass and crystal mullers. For those of you working on illumination or with tiny amounts of egg tempera paint, we now have handmade glass mini-muller and 4″x4″ mini grinding plate kits.
Finally, once you've made your paints, you'll need to store them for use in the field or your studio. We are now offering Watercolor Paint Pans, Watercolor Palette Boxes (both in two sizes), and Fill-Them-Yourself Paint Tubes so you can keep your watercolor or oil paints for longer and transport them cleanly and safely. We have a new store category under Tools And Supplies, called Storage, where you can find these specialty tools.
Stay tuned to this blog so you can see Linda's upcoming demonstration video where she uses some of these new pigments and tools to make watercolor paints, and using them in the field. Feel free to contact us if you have questions or comments about the new products. If you like them, be sure to do a review!