Description
Pure sky blue, mixed in France from organic earth, cobalt(II)-stannate and trace minerals, first used as a pigment in the 1860s. Lightfast, limited hiding power. mixes with all mediums and pigments; not recommended for watercolor washes due to chalkiness. Good for oil paints, especially for skies in landscape paintings.
AKA: Sky blue, [Lat] caelum (heavenly, sky), [Fr] bleu ciel, bleu celeste, [Ger] coelin blau, [It] blu cerule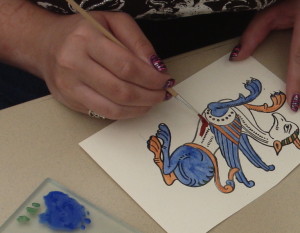 Painting a printed Medieval illustration in a pigment workshop. This beastie is cerulean blue.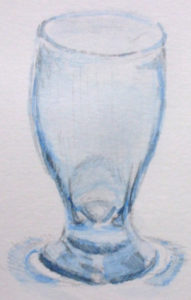 Cerulean blue goblet painted by Elizabeth Comer
Country of origin: France
Transparency: Semi-transparent
Compatibility: Paints, plasters
Lightfastness: Excellent
Composition: Manufactured mineral on a natural calcium carbonate base
MSDS/SDS not available.
General protective measures:  Always wear a dust mask, gloves, apron and eye protection.
These dry pigments are not sold for cosmetic, food, pharmaceutical or tattoo use.
Keep away from foodstuffs and drinks. Do not eat, drink or smoke during work. Wash hands before breaks and at the end of work. Do not allow children or pets to contact these art materials.