Description
Dark orange, strong brown undertones, the color of wet terra cotta pottery. Processed in North America from reclaimed iron mine sludge; an old Scandinavian method to get a high-tint iron oxide pigment. Lightfast, mixes with any medium or pigment.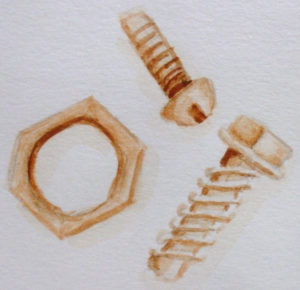 Nuts & bolts painted in terra cotta pigment by Elizabeth Comer
Terra cotta pigment used as fabric paint on indigo- and brazilwood-dyed scarf; dyed and painted by Bjo Trimble
Country of origin: United States

Transparency: Opaque

Lightfastness: Excellent

Composition: Iron Oxide produced from reclaimed iron sludge (1317-60-8)

Chemical formula: Fe2O3
General protective measures:  
Always wear a dust mask, gloves, apron and eye protection.
These dry pigments are not sold for cosmetic, food, pharmaceutical or tattoo use.
Keep away from foodstuffs and drinks. Do not eat, drink or smoke during work. Wash hands before breaks and at the end of work. Do not allow children or pets to contact these art materials.