Description
Soft dusty pink modern pigment processed in France from ocher, ferric oxide, trace minerals. Lightfast, mixes with any medium or pigment. In the Victorian era and in the Romantic age, pink was favored for love tokens and pictures of flowers. Wedding certificates often had flowing calligraphy, embellished with roses, doves, forget-me-nots, and ribbons. Ladies and children were often painted wearing pink gowns or accessories.
AKA: Botticelli blush, rosewood, [Fr] bois de rose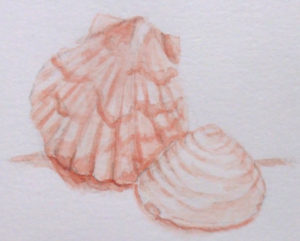 Seashells painted in pink ocher by Elizabeth Comer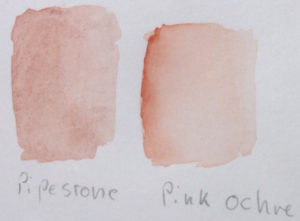 Color comparison between pipestone (L) and pink ocher (R) painted by Elizabeth Comer
Pipestone is an old pigment not easily available today
Country of origin: France

Transparency: Semi-transparent

Lightfastness: Excellent

Composition: Natural Base R101(77491)

Chemical formula: Si4O10(OH)2Mg3-Co3Ca-Al
General protective measures:
Always wear a dust mask, gloves, apron and eye protection.
These dry pigments are not sold for cosmetic, food, pharmaceutical or tattoo use.
Keep away from foodstuffs and drinks. Do not eat, drink or smoke during work. Wash hands before breaks and at the end of work. Do not allow children or pets to contact these art materials.