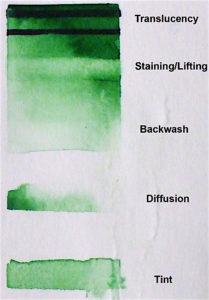 Forest Green
Dark pure green, very slight bluish undertones. Modern pigment mixed in France from iron oxide, trace minerals. Lightfast, high tint, needs more grinding, but well worth it.
AKA: Chrome green oxide, chromia, leaf green
Gallery photo shows how much Forest Green is needed for a small piece of art, measured with our tiny spoon.
Color Swatch painted by Elizabeth Comer