Egg Tempera is an ancient painting medium using egg yolk or a whole egg. It was famously used in Europe for illuminated manuscripts, and was the most common painting medium until it was surpassed by oil paint during the Renaissance. Once dried, egg yolk tempera hardens permanently and can last for centuries.
Here's a basic recipe to make it yourself!
Ingredients:
One egg
1:1 Gum Arabic Solution
Water
Clove oil or vinegar (optional)
Tools:
Bowls
Pipette or measuring spoons
Paper Towels
Scissors or sharp knife
Whisk or mixing stick
Tiny spoons or spatula
Glass grinding plate
Muller
Preparing Egg Tempera Binder:
Separate:
Use as fresh an egg as possible. Break eggshell carefully, letting egg white drip into a bowl. Move the yolk gently between shell halves; don't break the yolk.
Roll:
Carefully roll the yolk onto a paper towel. Roll it back and forth to remove all the egg white.
Drain:
Rolling the yolk to the edge of the towel, place another bowl under it. Pierce it with the knife and let it drain into the bowl. Keep the yolk sac out, and throw it away.
Water:
Use pipette to add enough water for a 1:1 mixture and whisk.
Gum Arabic:
Add 1:1 Gum Arabic solution to the yolk mixture and whisk.
*Clove oil
Add a drop of clove oil or vinegar to avoid 'eggy' odor and prevent mold. (this is optional)
---
Pigment Mixing: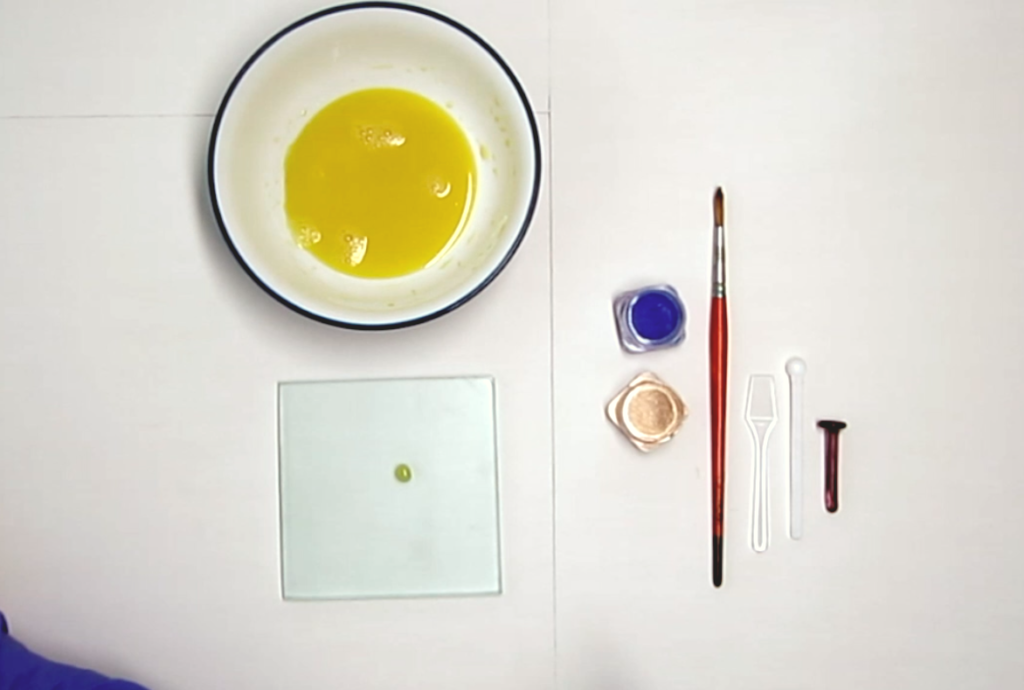 Using the frosted side of a glass plate, add 1-2 drops of your egg mixture with a pipette.
Add a tiny amount of dry pigment and grind lightly with the muller.
Test your tempera– if it dries dull, add more yolk. If it's too thin or too glossy, add more pigment.
---
Notes:
Without added pigment, the yolk mixture lasts 3-4 days.
Mixed with pigment, it lasts until dried, about 2-3 days.
Make sure to wash your brushes quickly after using. Egg yolk gets very hard! (Remember that egg tempera paintings last many centuries…) Olive oil soap is recommended.
---
Recipe by Bjo Trimble. Video by Anna Nelson.