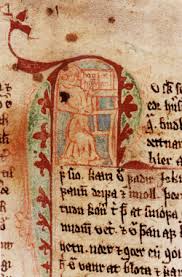 Making Glair (Egg-white Binder)
for making watercolor paint.
This binder makes transparent watercolors or gold-leaf adhesive. It's a protein, so is water-soluble only while wet; fairly permanent when dry.
You need:
1 egg white
Small deep bowl
Pipette*
Whisk
Lidded container
Clove oil*
Soapy water for dirty brushes
Paper towels for cleanup
Small trash bag
Art brushes
Gum Arabic*
Practice paper
Paper, parchment, etc. to paint on
 Method:
Separate white from yolk, remove opaque 'eye' thread.
Whisk white to stiff peaks like making a meringue
Cover bowl loosely to keep dust-free and set overnight.
Next day, scrape off foam and feed to the dog or toss it
Pour liquid into container, add drop of clove oil if desired.
Add about 1:1 glair and gum Arabic
Mix with pigments as with making egg tempera.
Glair will keep 1 week in refrigerator if well sealed.
Once old glair gets moldy, it's not good for art, so toss it out.
Gouache (Opaque Watercolor)
This recipe creates watercolor paint with white filler‡
Mix 1 part whiting‡ to 6 parts pigment.
Adjust for depth of opacity as desired.
Some artists like a semi-opaque paint. Go for it!
‡ chalk*, kaolin* or titanium dioxide*
* Item sold by Ancient Earth Pigments
Image: Red capital "N" with green and russet watercolor edging, from unknown Medieval
manuscript. Note that the capital letter is "inhabited" by a monk-like scribe or artist.