Description
VENETIAN RED
Strong, natural, prehistoric red; very slight orange undertone. Used for centuries, first recorded use of "Venetian" was in 1753, after the volcanic quarry near Venice where many artists obtained their bright red pigments.  Composed of clay, hematite (ferric oxide), trace minerals. Permanent, lightfast, mixes well with any medium or pigment; needs more grinding and liquid than other pigments to make good paint.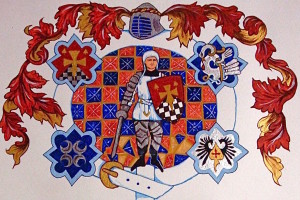 Scroll for Sir Augustine von Freiburg, painted by Bjo Trimble; mantling is mainly Venetian red.
Venetian red "wings" painted by Elizabeth Comer. Sample square painted by Teryl Wood
Country of origin: Italy

Transparency: Semi-transparent

Lightfastness: Permanent to UV

Composition: Natural Hematite, R102 (77491)

Chemical formula: Fe2O3+SiO2
General protective measures:
 Always wear a dust mask, gloves, apron and eye protection.
These dry pigments are not sold for cosmetic, food, pharmaceutical or tattoo use.
Keep away from foodstuffs and drinks. Do not eat, drink or smoke during work. Wash hands before breaks and at the end of work. Do not allow children or pets to contact these art materials.