Description
This is a discontinued product. Sales are limited to the stock and packaging we have on hand.
This is a 1L bottle containing approximately 1/2 kg of pigment powder.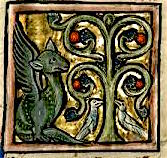 Small green dragon contemplating a tree with red fruit on it.
FRENCH GREEN
Natural olive green mined in France; made from earth, ocher, trace minerals. An elegant color that mixes with all mediums and pigments; dries fast, so add water or more binder to keep it workable.
AKA: Olive drab light