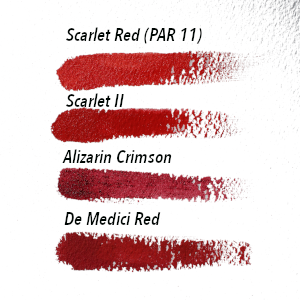 Hi Ancient Earth Pigment Fans!
As you know by now, we're a small company with a big heart.
I worried that our Scarlet Red (PAR 11) is a bit pricey, but affordable reds are hard to find.
I think our watercolorists and oil painters would like Alizarin Crimson for their florals and skin tones. So we got samples in and I swatch-tested them against our existing Scarlet Red (PAR 11).
We're looking for your preference among these "test" reds. Send us an email to let us know which ones you like.
Please vote for 2 –
Scarlet II
Alizarin Crimson
De Medici Red
We'll order the winning pigments to have them in stock before the Holidays, and, before Watercolor Live. We are a Silver Sponsor! Another Blog post will give lots of details if you didn't get to enjoy Plein Air Live or Realism Live. If you haven't signed up, please use this link.