Description
This is a discontinued product. Sales are limited to the stock and packaging that we have on hand.
This is a 1.5L bottle containing approximately 1/2 kg. of pigment powder.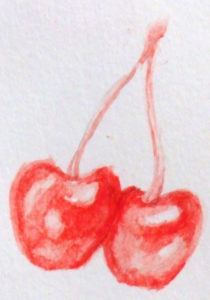 Cherries paint with Vermillion Red by Elizabeth Comer
 VERMILLION RED
Bright warm red-orange color; this vermillion is a modern non-toxic pigment from France, an excellent alternative for the ancient toxic cinnabar pigment used in early times.Medieval artists used it to rubricate (reddened) fancy initials and illuminations. The first man-made version of vermillion was produced in the 14th century, but the ancient toxic pigment remained popular, though very expensive, to the 18th century. Our version is a safe azo pigment fixed on an oxide mineral base. Lightfast, good hiding power, mixes with most mediums and pigments, but test first.
Genuine vermillion was known by many names, most of which have been applied to this modern pigment as well: China red, Chinese red, Chinese vermillion, cinnabar red, iron black, mineral mercury, stibium, stibnite, zinnober, [Egypt]: stick-stone, stibick-stone, [Fr] rouge cinabre synthetique, [It] monte amiata, [Jp] shu

Richly designed initial R painted with vermillion red and black.