TRUE BLUE
Medium blue, closest in hue to indigo and/or woad dyes. A modern color from Ardennes, France, composed of milori (Prussian) blue oxide, and titanium dioxide. Lightfast, mixes with most mediums and pigments, except lime and cement; needs lots of grinding to get a good smooth paint.
AKA: Flag blue, sky blue, turquoise blue dark, charvin blue, [Fr] bleu charron
5 grams True Blue pigment: $0.75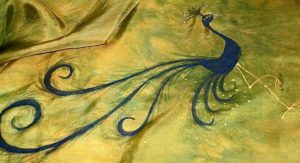 Silk scarf, dyed in indigo blue and kamala yellow, then hand-painted by Bjo with True Blue and Majestic Gold pigments.
Color swatches painted by Elizabeth Comer and Teryl Wood