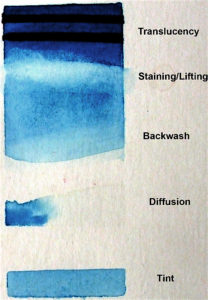 Brilliant azure blue of a peacock's neck, resembles the azurite pigment favored by Renaissance artists. This color was developed as a pigment in the mid-1800s, processed in France from phthalocyanine blue, copper, barium sulfate and oxides.  Copper phthalocyanine is also a leading material used in organic solar cell research. Superior light-fastness, tinting strength, and covering power that overpowers other colors when combined with other colors. Resistant to alkalies and acids, mixes with any medium or pigment. Lovely to work with but needs much grinding to achieve a good paint. It is not biodegradeable, but also is not toxic to fish or plants.
AKA: azure blue, copper phthalocyanine, helio blue,  ink blue, monastral blue, phthalo blue, phthalocyanine blue, thalo blue, Winsor blue
Gallery picture shows workshop student painting printed griffin with Peacock Blue.
Color Swatch painted by Elizabeth Comer