INTRODUCTION
 Artists often use essential oils to retard fermentation and mold growth in mixed paints and inks, and to keep some oil-based paints from drying out too fast, and to cover the 'eggy' odor of egg tempera. Essential oils are extracted from plants by steam or cold-pressed to obtain the strongest scent. Our oils are bottled in little amber-colored ¼ dram glass bottles. A small pipette is provided with the bottles for adding 1 or 2 drops of oil to mixed paints or inks. There are approximately 36 – 38 drops of oil in each little bottle. A Sampler Set of all 8 scents is packaged in 5/16 dram vials.
SAFETY

 Concentrated essential oils will irritate eyes or mucous membranes. Keep out of reach of children and pets. If pregnant or lactating, consult your healthcare practitioner before handling volatile oils. These oils are not for food or on skin, since we have no control over how they were processed.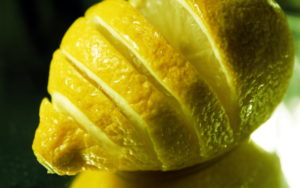 LEMON PEEL ESSENTIAL OIL
(Citrus Medica Limonum)
Cold-pressed lemon peel oil, also called citrus limon oil, provides a clean, cooling and fresh scent, thought to ease anxiety, nervousness and headaches. Approximately 1,000 lemons are needed to produce one pound of lemon oil.
Ayurvedic medicine has been using lemons to treat a wide spectrum of health conditions for at least 1,000 years. Lemons were used by ancient Indians, Egyptians, Greeks and Romans as a remedy for infectious diseases and for lemonade to lower fevers.
Persian and Medieval gardens cherished one or more lemon trees in their gardens, as did many other cultures and ages. Once treasured in gardens of the wealthy, lemons are now commonly grown in large orchards in Europe and the United States.
Lemon Peel Essential Oil: ¼ dram vial: $1.25