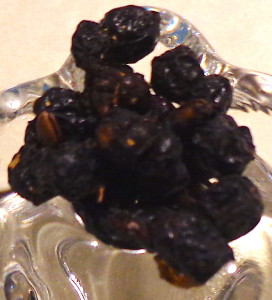 BUCKTHORN BERRIES 2
(Rhamnus infectoria)
Description: Transparent bright green to olive green, yellow undertone
Composition: Dried ripe berries – no relation to sea buckthorn berries (see also Buckthorn Berries Green under "green pigments")
History: used in medieval illuminations, watercoloring
Current Source: North America
Stability: Fugitive, will fade in sunlight. May not mix with all pigments or mediums so experiment before beginning a project
Transparency: Transparent
Flocculation: Low
Lightfastness: Good
Staining/Lifting: Lifts well
Mixing Suggestions:
Tone: Warm
Value: Light
Coverage/Tinting Strength: Good
AKA: Persian berry, French berry, yellow carmine; Avignon berries; yellow berries, [Fr] verde de vescica
Note:

The name of these berries has been changed to indicate the color achieved. Seems some customers found "ripe" and "unripe" too confusing. That said, there is not a lot of difference between ripe and unripe berry colors, except by a few shades.
Price: 5 gm Buckthorn Berries 2: $1.25