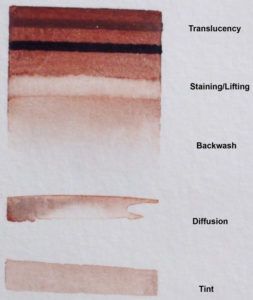 BARIT RED
Dark red, burgundy undertone composed of barium, quartz, iron, trace minerals, mined in Armenia. Semi-transparent, low flocculation, lightfast, stains slightly, warm tone, medium value, good tinting strength. Slightly darker than Augite Porphyry Crimson, has small mica flecks like Hematite.
Similar also to Burgundy Brown, Hematite Cherry.
Note: Industrial barium is toxic, but this kind is locked in the rock and cannot be released even when ground fine.
Price: 5 gm Barit Red: $0.75
Color swatch painted by Elizabeth Comer